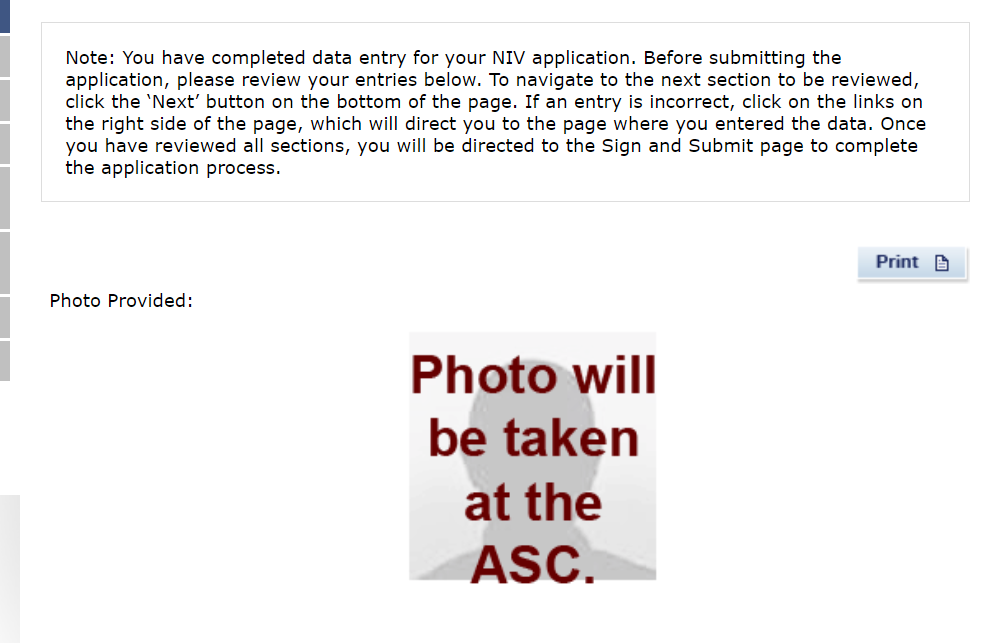 Recently, there have been some changes to the DS-160 Visa application form where the applicants are no longer required to upload a digital photography while filling out the DS-160 Visa applications. Initially, the applicants had to upload a digital photography at the end of the DS-160 Form but now the space shows the message "Photo will be taken at ASC" (as shown in the image).
The photograph will now be taken at the OFC (Offsite facilitation centers) or ASC (Application Service center).
After filling out the DS 160 Form and prior to the Visa interview date, you will need to schedule the OFC fingerprinting and photograph at one of the ASC centers. During this biometric interview, your photo will be taken at the visa application center along with the fingerprints.
Document Customer Support – ustraveldocs.com
Some Recent Experience
I too uploaded the photo(but 10 days before) and submitted today only to find that my photo was not appearing in the confirmation page. Called the Customer Support of ustraveldocs.com and came to know that it was a recent process change and a fresh photo would be taken at ASC. Also they advised me to take 2 hardcopies of photo to the ASC.