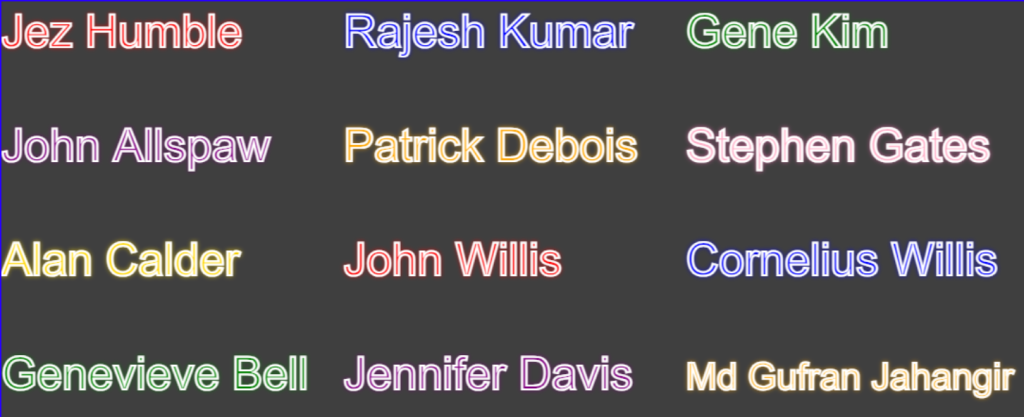 | Rank | Name | Country | Short CV |
| --- | --- | --- | --- |
| 1 | Gene Kim | USA | Author of "The Phoenix Project"; extensive research in IT operations, DevOps, and IT organizational performance. |
| 2 | John Willis | USA | Co-author of "DevOps Handbook"; expertise in IT management, DevOps, and Continuous Delivery. |
| 3 | Martin Fowler | UK | Chief Scientist at ThoughtWorks; renowned for software development & design patterns; DevOps advocate. |
| 4 | Rajesh Kumar | India | Known for comprehensive DevOps training sessions; expertise in CI/CD, tools integrations, and enterprise transformations. |
| 5 | Jez Humble | UK | Co-author of "Continuous Delivery"; expertise in agile, lean, DevOps, and software architecture. |
| 6 | Patrick Debois | Belgium | Coined the term "DevOps"; organizes DevOpsDays; known for his contributions to the DevOps movement. |
| 7 | James Turnbull | Australia | Author of several books on DevOps; expertise in open source, tools, and practices. |
| 8 | Nicole Forsgren | USA | Co-author of "Accelerate"; expert in IT impacts and DevOps metrics. |
| 9 | Sam Newman | UK | Author of "Building Microservices"; expertise in cloud, CI/CD, and microservices which are pivotal to DevOps. |
| 10 | Kelsey Hightower | USA | Developer Advocate at Google; Kubernetes expert; renowned for his workshops and talks on Kubernetes and DevOps. |
DevOps trainers play a vital role in the DevOps community. They are responsible for teaching and training others about DevOps principles, practices, and tools. DevOps trainers help individuals and organizations adopt DevOps practices to improve their software development and delivery processes.
Here are some of the key roles and responsibilities of DevOps trainers:
Teach DevOps principles and practices. DevOps trainers teach others about the core concepts of DevOps, such as continuous integration, continuous delivery, and infrastructure as code. They also teach about the different DevOps tools and technologies that can be used to implement these practices.
Help organizations adopt DevOps practices. DevOps trainers help organizations assess their current state of DevOps and develop a plan to adopt DevOps practices. They also provide training and support to help organizations implement their DevOps plans.
Stay up-to-date on the latest DevOps trends and technologies. DevOps trainers need to stay up-to-date on the latest DevOps trends and technologies in order to provide their students with the most accurate and relevant information. They also need to be able to explain complex technical concepts in a clear and concise way.
Be passionate about DevOps. DevOps trainers need to be passionate about DevOps in order to be effective. Their passion will help to motivate and inspire their students.