What is AWS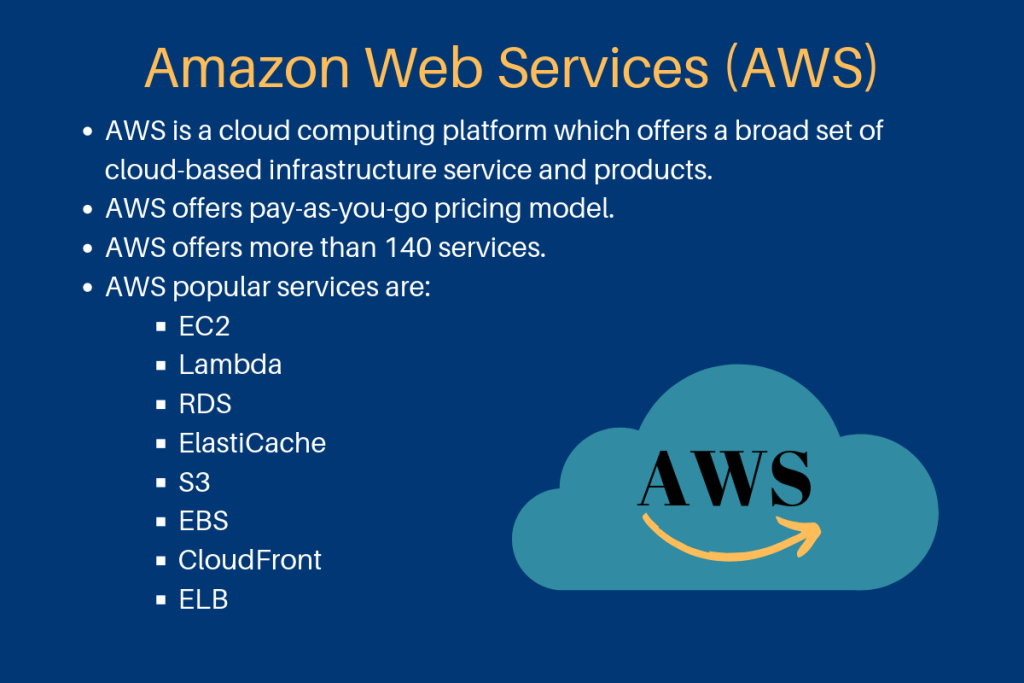 AWS was established in 2006. AWS is a widely used cloud-computing platform that provides cloud computing solutions that are versatile, scalable, easy to use, and cost-effective.
Infrastructure as a service (IaaS), platform as a service (PaaS), and packaged software as a service (SaaS) are all used to build the platform.
AWS is divided into numerous services, each of which can be configured in a variety of ways depending on the needs of the user. For an AWS service, users should be able to access configuration choices and individual server mappings.
AWS services are offered to customers through a worldwide network of AWS server farms. Fees are determined by a combination of consumption (a "Pay-as-you-go" model), hardware, operating system, software, or networking characteristics selected by the subscriber, as well as availability, redundancy, security, and service options. Subscribers have the option of purchasing a single virtual AWS machine, a dedicated physical computer, or a cluster of both.
It aids corporate growth by storing data in various databases such as SQL, MySQL, Oracle, and SQL servers.
Benefits of AWS
Mobile-Friendly Access
AWS Mobile SDK and AWS Mobile Hub are two options.
Android, React Native, IOS, Unity, Web, and other platforms are supported via the AWS Mobile SDK. It is possible to use this capability to access various Amazon Web Services such as Lambda, DynamoDB, and AWS S3 (Simple Storage Service).
This Mobile Hub enables you to use the most appropriate and compatible functionality for your app. The console included in the package can be used to design, test, and monitor the application. The AWS Mobile Hub also offers other services such as message push notifications and content delivery.
Easy to Use
AWS is simple to use since the platform was created with quick and secure access in mind. Users have complete control over their data and can make changes whenever and anywhere they choose. Starting with AWS as a cloud provider is more easier for most businesses than starting with Azure or Google Cloud Platform. AWS provides all of the necessary information, documentation, and video tutorials to assist you in learning how to use all of its services.
Pay per use
Unlike other platforms, Amazon web services does not need users to pay for all of the services available. It only bills the user for the resources, storage, and bandwidth that they consume. Given this, it is the most crucial quality of the business sectors that attract AWS in comparison to others.
Secure
One of the most appealing aspects of AWS cloud computing is security. As we all know, security is a top responsibility for any data-driven firm. AWS delivers a highly secure infrastructure to protect your data's privacy. AWS security experts employ various layers of data surveillance, including:
Threat detection and continuous monitoring
Data protection
Identity and access management
Infrastructure protection
Data privacy and compliance
It's an end-to-end solution that allows businesses to focus on their core competencies rather than worrying about data security.
Storage
AWS offers a large amount of storage that can be used independently or in combination. If you're using high-input/output applications like Hadoop or data warehousing, the high-storage EC2 instances can help.
Amazon offers a variety of storage options, including:
Amazon Elastic Block Store (EBS) – Block-level storage that can be utilized in conjunction with Amazon Elastic Compute Cloud (EC2) instances to make data permanent.
Amazon Glacier – Is mostly used for long-term storage of data that isn't needed regularly. In other words, data backup and archive storage.
Amazon Simple Storage Service (S3) – Assists with storage provisioning using a web-based interface.
Amazon Elastic File System – This storage is utilized for workloads and applications hosted on Amazon Web Services' public cloud.
Transport Devices for Storage – Amazon offers storage devices that can be moved from one location to another for commercial purposes, such as the Snowmobile and Snowball. Snowmobiles transport massive amounts of data via trucks equipped with many hard drives capable of storing petabytes of information. Snowball makes it possible to transport data in and out of AWS for a fraction of the cost of doing so over the internet.
Flexible
Many businesses favor AWS because of its flexibility. It always allows you to use your preferred operating systems, computer languages, and web application platforms. You can create your virtual computing environment with a service like AWS EC2 by installing your preferred operating systems and applications. AWS perks give you access to all of the greatest services that your app needs to run smoothly. It can also help with migration and allow you to work on new solutions at the same time.
Scalability and Reliability
Amazon provides infrastructure that scales in response to demand. As a result, if the user scales down the instances in use, the cost of consumption might be cheap. It's already noted under the 'pay per usage' option. Large enterprises have found that the scalability feature is the best answer because they don't require any additional resources if they run out of storage.
Backups in Multiple Regions
Amazon offers a number of zones in which users can store their data and instances. There are availability zones in certain regions that are protected from failure in other zones. Multi-Region Backups' main aim is to launch EC2 instances in any location to protect the user's applications. Network latency and cost will be low if the zones are in the same region. Regions can be divided into different geographic areas, counties, and so on. Users can select the region that is most convenient for them. Furthermore, a third-party service called Cloud Ranger backs up the data in several countries automatically.
In DevOpsSchool, you'll get the best AWS training in Hyderabad. DevOpsSchool is one of the leading colleges that provides instructor-led online training with qualified IT instructors. Their IT instructors have a combined expertise of more than 15 years in the field. They excel at what they do and are passionate about it. DevOpsSchool has been around for a long time and has a solid track record of student instruction. So far, they've trained over 8000 people. They are all content and successful in life.
Our trainers are experts in both public and corporate training, therefore DevOpsSchool can deliver both. Hyderabad is one of India's biggest cities. Having a training institute there is significant in and of itself. DevOpsSchool is not just in Hyderabad; it has locations all around the world, including India, the United States, the United Kingdom, Canada, Switzerland, and many others.
Other benefits include instructor-led online training, the greatest IT trainers from around the world, class recordings, PDFs, slides, notes, videos libraries, life-long technical support, projects, internships, and more. Visit www.devopsschool.com for more information.